California Young Professional SIG
A multi-Chapter Special Interest Group
The California Young Professionals SIG is a collaborative community geared to younger (age 35 or less) learning and talent development professionals from the ATD Los Angeles, ATD Orange County, ATD Golden Gate, and ATD San Diego Chapters.
Our network offers resources geared towards young professionals that help them advance their career. From content and tools to activities and projects, we are here to engage with you to tackle today's toughest industry challenges and to grow as L&D professionals.
*While this is a young professional's SIG there is no age restrictions all are welcome
Why attend the California YP SIG
Network with other young professionals in the learning and talent development field
Be part of a community
Engage in learning events
Develop professional skills and build your personal brand
Grow industry knowledge & expertise
Schedule for 2022
Meeting Time: 2nd Thursday* of each chosen month (6pm – 8pm)  *except December End of Year Celebrations
September 8, 2022
December 6, 2022 – End-of-year Celebration 6 – 7 pm
Dates for 2023
March 9
June 8
September 7
December 5, 2023 – End of year Celebration
All meetings are virtual.
For additional information, please contact us at youngprofessionals@tdgoldengate.org
Meet the CYP Team

Remy Biglow (she/her), ATD-GG National Liaison,
youngprofessionals@tdgoldengate.org
Remy is a talent development professional who expresses a love for building community, and believes the way to do this is through engagement and learning initiatives.
Remy is a Certified Professional in Talent Development (CPTD), PMP, SHRM-SCP, and holds a Masters of Education. She has managed and created several L & D programs throughout her career. She started out working in the higher education sector and has since transitioned to supporting non-profits since moving to the USA from Canada. Since 2021, Remy has been leading the study group for the Golden Gate Chapter, supporting those looking to pursue APTD/CPTD certifications. She is also supporting the coordination of the Young Professionals SIG.
Michelle Yang (she/her), ATD-LA YP Coordinator
youngprofessionals@atdla.org
Michelle  is a talent development professional with over 5 years of experience in higher education. She spent the early parts of her career helping to develop college students into their best selves. Michelle now works in the tech industry as a Talent Development Specialist at DISQO, where she supports various People Ops functions such as onboarding, training, and team development.
Michelle earned an M.A. in Educational Studies from The Ohio State University and a B.A. in Psychology from California State University, Fullerton.
A fun fact about her is that she didn't learn how to ride a bike until she was in college! As a SoCal Young Professionals SIG leader, she is excited to create inclusive spaces in which young professionals can connect, learn, and thrive together.

Nairee Bedikian (she/her), ATD-LA YP Coordinator
youngprofessionals@atdla.org
Nairee is a learning and talent development professional and storyteller at heart. Similar to her ATD Young Professionals peers, she has years of experience in corporate and higher education industries. She currently works at The Walt Disney Company supporting learning, inclusion, and talent development. Her passion is to drive high-value impactful programs alongside unique engagement opportunities for employees at all levels in an organization.
She received her M.A. in Organizational Psychology from Alliant International University – Los Angeles and her B.A. in Psychology from California State University, Northridge.
Nairee's fun fact is that her dogs are the reason she was offered two of her recent roles. She is so excited to be involved in the SoCal Young Professionals SIG and to provide learning and connection opportunities with fellow peers in this career field.

Jessica Del Rosario (she/her), ATD-OC YP Coordinator
youngprofessionals@atdoc.org
Jessica is a learning and talent development professional with experience in both corporate and higher education. She currently works in the healthcare industry as an Instructional Designer. Her attention to detail shines during the entire ADDIE process and believes in creating a cohesive learning experience from start to finish.
She earned her M.S. in Instructional Design and Technology from California State University, Fullerton, and her B.A. in Business Management from Azusa Pacific University.
A fun fact about Jessica is that she loves hot yoga! She's so excited to be part of SoCal Young Professionals SIG because her passion is rooted in the development of others – especially those early in their careers.

Bridget Randall (she/her), ATD-SD President
president@tdsandiego.org
Bridget leans into the ATD capability model, by focusing her leadership on collaboration, encouraging teamwork, and respectful relationships amongst the Board Directors and volunteers. Outside of ATD, she promotes Talent Development best practices as a Learning Consultant at Skillsoft, where she partners with her clients to identify root causes and ensure learning solutions make a measurable impact on their businesses.
Bridget's experience includes building innovative learning solutions from the ground up including designing, facilitating, and managing learning programs throughout the entire learning lifecycle.  Since COVID she has partnered with Your Flock.uk, a digital coaching platform built to help remote teams discover and strengthen their core values.
Most nights you can find her walking along the north county coast enjoying a stunning sunset.
Professional Development Points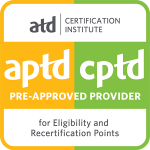 The Golden Gate Chapter has been pre-approved by the ATD Certification Institute to offer educational programs that can be used towards initial eligibility and recertification of the Certified Professional in Talent Development (CPTD) and Associate Professional in Talent Development (APTD) credentials. Every .5 hour of learning is equal to .5 points. Click here for more information about our chapter's preapproval.