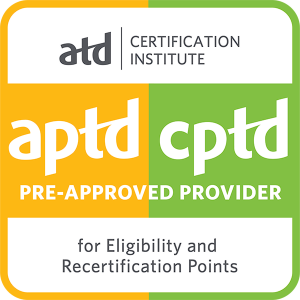 ATD Golden Gate – Professional Development and Recertification Points :
The Golden Gate Chapter has been pre-approved by the ATD Certification Institute to offer educational programs that can be used towards initial eligibility and recertification of the Certified Professional in Talent Development (CPTD) and Associate Professional in Talent Development (APTD) credentials.  The APTD and CPTD certifications are awarded by the ATD Certification Institute.
Our ATD Golden Gate programs have always supported the development of the capabilities in the Talent Development Capability Model. Getting the pre-approval to offer these points is one new way that we can support APTD and CPTD certification holders and those working to earn their certifications.  On each pre-approved event sign-up page you will see the professional development points listed for that event. Points can be earned by attending the event.
Whether you are a Talent Development professional in the larger Talent Development community or in our very own chapter, we hope to see you at one of our Pre-Approved events soon!
Events include:
Monthly Chapter Programs
Professional Development Workshops
Chapter SIG programs (other than annual parties, etc. if offered)
Geographical Interest Groups (other than annual parties, etc. if offered)
TED Discussions
Webinars and Special Events that provide content
Always check the Event Listing page to see what is coming up
Certification Study Groups
If you are interested in learning more about APTD and CPTD certifications, click here to go https://www.td.org/certification to learn more.