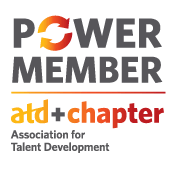 Power members belong to both a local chapter and ATD National. These members are able to create strong connections within their local talent development community and leverage the resources of the national organization. These members also have special rates for events and other activities within the ATD network. If you're someone who is trying to make lifelong connections within talent development this may be a great option for you.
If you are already a Golden Gate Chapter member, you can receive the special ATD National annual Power Member rate. All you need to do is complete the Power Member membership application, or call ATD Customer Care at 1.800.628.2783 and mention your chapter's ChIP* code: CH8003.
If you're not yet a Golden Gate Chapter member, but are a member of the national organization, be sure to apply for chapter membership as a Power member rather than a "GGC" member.
Please note that the Power Member discount of $30 is only applicable to one year, individual membership rates.
* ChIP is a revenue-sharing program that offers chapters an opportunity to earn revenue when certain ATD products and services are purchased online or by phone using a chapter's unique ChIP code.
In today's economy, every dollar an organization spends has to be justified. You know that Power Membership is worth the financial investment.
Now let's convince your boss.
To learn more about Power Member membership, download the Power Membership brochure today!