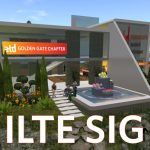 ATD's Immersive Learning Talent Experience (ILTE) SIG was formed to explore emerging technologies such as 3D VR environments, fully immersive VR, AR, and AI to enhance the full lifecycle of talent experience, including onboarding, training, engagement, and team building.
Why "Experience"?  Here's Josh Bersin's favorite definition: An experience is an encounter. It's an event that you come in contact with, react to,  face up to, and remember.  What immersive learning technologies can give you is the toolkit to help your own clients have positive lasting developmental experience.
Imagine participating in scavenger hunts as avatars, or practicing difficult conversations in a VR simulation, or making your product models come to life in three dimensions using AR. We have embraced these technologies in shopping, entertainment, transportation, education and more.  Think of the IKEA and Amazon features for seeing how an object might look in your living room or windshield displays in some cars or virtual booths at conferences and events. Join us and discover how you can use immersive technologies to make learning and talent experiences more active, interactive, engaging, and effective.
The goal of the ILTE SIG is to:
Create an understanding of emerging technologies including 3D Environments, VR, AR, AI.
Provide examples of how organizations are leveraging immersive technologies for learning and employee experiences through guest speaker and internal expert talks as well as thought leadership
Organize or create access to hands-on upskilling workshops so you can start integrating immersive technology within your own role or workplace
Provide support and networking opportunities through the group
We will meet through Zoom from 5:30 – 7:00pm  on the 2nd Monday of each month (Day of the week was changed effective October 2023).
See and sign up for the next ITLE Learning SIG event under EVENT LISTINGS on this website.
SIG Leaders:
Bruce Gross
Yogini Joglekar
Carla Kincaid-Yoshikawa
Renu Ramakrishnan

For more information about our group, or, if you are not a chapter member, to request an invitation for a 'trial run', please contact Bruce at iltesig@tdgoldengate.org