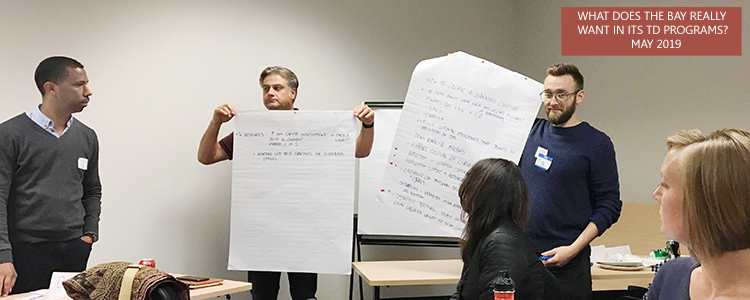 Kris Schaeffer, CPLP
What does the Bay Really Want in TD Programs?
Great program and great panel. I was thrilled to hear about what people want in TD programs. They had some very down-to-earth observations. The group was so stimulating that I riffed on their ideas . . .
Activities rock!
Participants enjoy active learning. Read more about "experiential learning." This link ties together learning styles and instructional steps. https://en.wikipedia.org/wiki/Experiential_learning . The entry is a little wonky, but a great overview. It includes Kolb's 4 learning styles which fit into instructional design. My own thought is that MBTI is better for training delivery.
Now that you understand why hands-on learning is so important – and so popular with you — here are some resources for experiential learning activities:
Thiagi is a master of active games. His website contains not only games, but videos of the games in action: http://www.thiagi.com/ Ed. note: See video of the chapter's Sept 2013 program with with Thiagi – https://tdgoldengate.org/recorded-programs/
Bill Pfeiffer's Structured Experiences. Each volume contains various exercises directed toward specific content – leadership, conflict, etc.
Danny referred to the "experiential analog." Not all activities point directly back to the on-job behavior. We can use activities for warm-ups, create group norms, have a common experience that creates a learning team, put words onto emotions (the affective domain). There is a fabulous method for the experiential analog – an instructional method that allows participants to see the big picture and learn about it with a hands-on small group exercise. https://www.rootinc.com/
Some SME training sucks.
SMEs can learn an easy 5-step sequence for teaching what they know. Here are the 5 steps:
Explain
Demonstrate
Practice
Feedback
Apply
Look at this closely and you'll see that it is very similar to "I do. We do. You do." I do = Explain and Demonstrate. We do = Explain and Demonstrate together. You do = Practice + Feedback. But then, I bet you saw the connection right away.
Bonus: If the SME uses this for just one learning objective at a time, you'll have a short segment for your learning library.
Bonus #2: If SMEs learned how to write learning objectives, they wouldn't be teaching the etymology of the word "autoclave" because you have no expectation that the learner would ever use this on the job.
"I do. We do. You do." It's a great model for on-job training.
One handy job aid simplifies the process, supplants memory, and appeals to the visual learner. Here's just one example of what a one-pager might look like: http://www.largescaleinterventions.com/documents/Future%20Search%20English.pdf
I can't help myself. Here is a link to 63 job aids about training: https://www.td.org/job-aids-tools  There's even a job aid to help you create a job aid.
Technical tools help us and the learner.
HiveBrite. https://hivebrite.com/  has a nifty way to capture learning objects (handouts, job aids, etc.) and also has a forum to continue the discussion about what was learned and how it was applied. This would be great for that "dynamic team" or study group.
Wow! All this from the panel that got our juices flowing. Loved their realistic look at whether and how training works. Thanks!