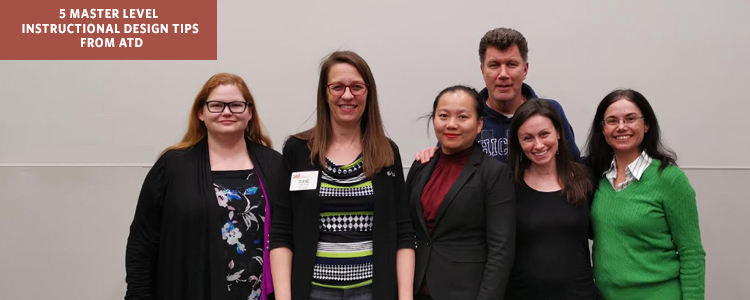 Alisha Klatt
Training and Instructional Design Specialist
UC Berkeley Office of Environment, Health & Safety
Are you looking for opportunities to level-up your Instructional Design skills? Have you checked out the Association for Talent Development's (ATD) master-level programs?
Last year, I had the pleasure of attending the ATD Master E-learning Instructional Designer Program facilitated by Diane Elkins. The workshop took place prior to the 2020 ATD TechKnowledge Conference & Expo in San Jose, CA. I'm grateful I was able to attend after receiving one of the discounted registrations that ATD National and the Golden Gate Chapter are occasionally able to offer to active Golden Gate chapter members for sessions that have space available.
My highlights include hearing insights from the instructor's experience and discussing real-world Instructional Design (ID) challenges with other participants working in different industries. During the program, our class worked through a well-designed, realistic scenario to practice the skills we learned. After the instruction ended, we received valuable feedback on our individual project deliverables.
The course presentations and materials also included many master-level tips. Here are 5 that resonated with me. (more…)